---
Haley to appear in Front and Center w/ Robby Krieger - Tusk - 07-10-2019

H/T Haley Reinhart News




Quote:Rock & Roll Hall of Fame inductee Robby Krieger takes the stage at Village in Los Angeles for an exciting performance featuring special guests Lukas Nelson, Orianthi, Dennis Quaid,

Haley Reinhart

, Lauren Ruth Ward, David Brock, and his son Waylon Krieger. Krieger is best known as the legendary guitarist of The Doors.
---
RE: Haley to appear in Front and Center w/ Robby Krieger - Tusk - 07-10-2019

Recorded in February, here's Haley's post about it.  Lukas Nelson also performed that night

https://www.facebook.com/HaleyReinhart/photos/a.243152989039202/2261340483887099/?type=3&theater

Front and Center isn't available in my area, but I found out that Front & Center posts their shows.  I went to http://PBS.com  and searched "Front and Center" which took me to a page w/ three shows posted


---
RE: Haley to appear in Front and Center w/ Robby Krieger - Tusk - 07-18-2019

When I searched my cable, the show never came up for me, so I assume I wouldn't get it.  PJ found a page on Front and Center with more detail, says it'll be broadcast 8/14.  So I went to my local PBS page and searched the calendar manually, I entered the august Date and sure enough, it's on the calendar, just two weeks outside this current search range.

So even though an earlier article that they'll be showing it in July, it could be August.  Two different web pages one east, the other west coast, says it'll be broadcast in August

Here's PJ's link to the calendar for a PBS station in NY, 
https://www.wliw.org/programs/front-and-center/robby-krieger-and-friends-48hpyr/#.XTD7e6zZthM.twitter

Here's a screen cap from my local PBS stations page, both say August 14.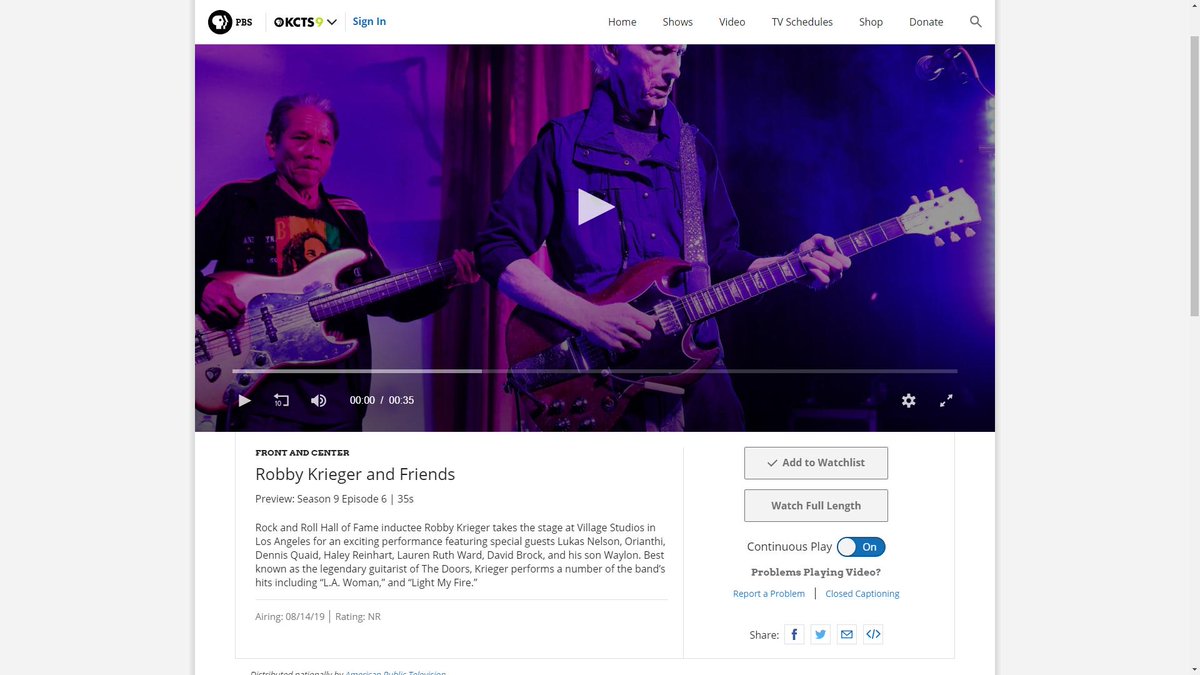 ---