Radio: KHALEY-You're the DJ
09-23-2016, 02:32 PM,
(This post was last modified: 09-23-2016, 10:11 PM by Tusk.)
Tusk
jonesing for some Gingerbread Cake


Posts: 11,751
Threads: 217
Joined: Mar 2012
RE: Radio: KHALEY-You're the DJ
Haley's performance w/ Slash and Myles Kennedy has recently had a resurgence on my channel... it started slowly enough, I noticed it overtook, "Dream a Little Dream of Me" from it's long time perch of 2nd most viewed/month video, behind Laguna's At Last. Then I noticed it beginning to gain some steam.
It was pointed out to me, it's probably because the Guns and Roses tour has begun, increasing interest in the performance. As with many 'popular' videos, I started getting comments pro or vs Slash, Myles or Haley....alot of comments, back and Forth.
Cut to this morning, I checked Analytics and saw that WH was now within 2.5K views of At Last.....
I just checked... 'something' happened on the 21st, it got viewed over 13k times in just one day. My channel's views/day had been averaging around 11k-12k a day....it just shot up to over 20K on the 21st and now, we have a new 'most viewed per month' video, knocking out the seemingly immovable Laguna "At Last" from it's perch atop the analytics for my channel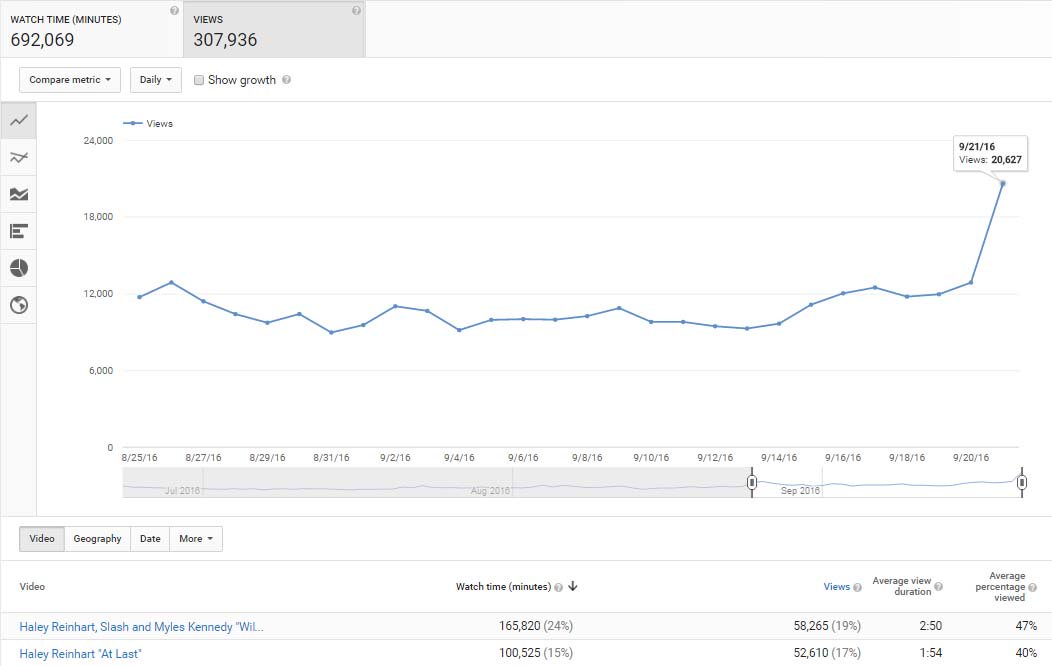 Users browsing this thread: 1 Guest(s)