Radio: KHALEY-You're the DJ
12-01-2017, 04:14 PM,
(This post was last modified: 12-01-2017, 05:01 PM by Tusk.)
Tusk
jonesing for some Gingerbread Cake


Posts: 11,765
Threads: 217
Joined: Mar 2012
RE: Radio: KHALEY-You're the DJ
Half way through this year, I thought I'd maybe have a shot at getting 5 million views in 2017 (as reference, my lifetime views since Oct 2012 is 11,085,373, so close to half my lifetime views in 2017
)
Since then, after the Euro tour, numbers are declining, when once I had 450,000 views a month, it's declining to around 330K-320k views/month and it looked like I would fall short of 5 million by around 50k...
I checked my numbers yesterday and discovered my total for the year is now 4,699,918 as of November 29th.... so less than 300K views in December to make 5 million and still on track
***Not to be overlooked, Haley's video w/ Slash & Myles and GnR going on tour is a MAJOR reason for another year of growth...for 2017 so far, Wild Horses has been viewed 1,204,766 times
('only' viewed 466,370 times in 2016)
190,301 views in 2013
432,865 views in 2014
2,198,048 views in 2015
3,542,730 views in 2016
5 Million views in 2017 ?
Also Youtube is trying out a Beta control panel, one interesting analytic I found shows over 50% of my views come from Youtube suggestions, but only 1.7% of my views come from 'alerts' to subscribers....don't know how they come by the number, but it reflects what I've thought all along about number of subscribers....they really don't seem to impact your viewing numbers hardly at all.....
Also another new analytic is interesting, shows what videos suggest my channel/videos and bring views to my channel.... Can't Help Falling in Love, the gum commercial apparently brings in the most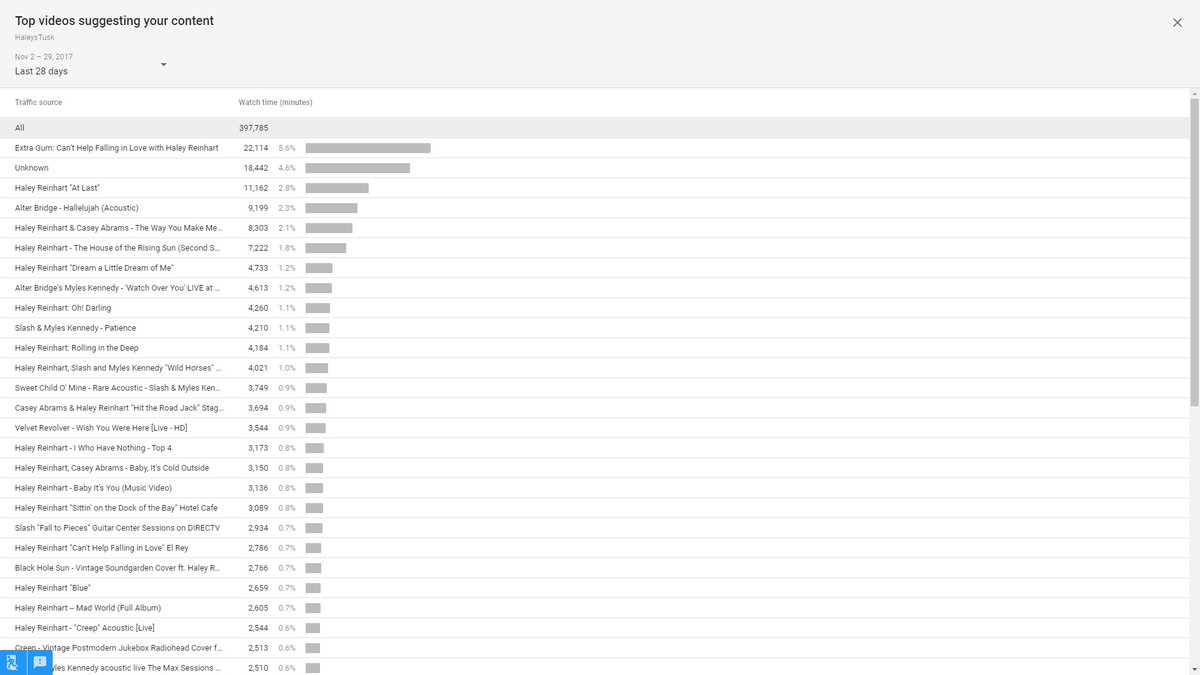 Users browsing this thread: 1 Guest(s)