Radio Disney
03-13-2018, 06:31 PM,
Nicicarus
Member


Posts: 120
Threads: 3
Joined: Mar 2016
RE: Radio Disney
Helpful hint. If you have an Amazon dot or echo you can ask Alexa to play radio disney station without having to download the app or go to the web
03-13-2018, 08:09 PM,
Nicicarus
Member


Posts: 120
Threads: 3
Joined: Mar 2016
RE: Radio Disney
After the shout out for cant help falling in love by Haley on the radio I swear the streams on Spotify got an uptick and significant increase. I know kids along with their parents listen to radio Disney and it was strategic and smart for Haley to mention her Elvis cover.
Didn't catch the whole show, but from what i heard she didnt plug or give details for what new music she's working on now, but she did plug WTS and Better.
03-13-2018, 08:18 PM,
Haleylvr4evr
Posting Freak


Posts: 2,091
Threads: 53
Joined: Feb 2012
RE: Radio Disney
I gave up on it halfway through. I couldn't take all the icky Top 40 pop/Disney songs. I did hear her speak a little so its ok.
03-13-2018, 08:48 PM,
Himm2
Posting Freak


Posts: 3,040
Threads: 82
Joined: Dec 2011
RE: Radio Disney
I recorded her little vignettes between the Disney Radio silly songs:





03-14-2018, 04:44 AM,
KelseyW.
Member


Posts: 133
Threads: 2
Joined: Jan 2013
RE: Radio Disney
I fell asleep on my couch so I missed it.
Thank you @Himm for the recording!
Sad that they didn't play at the very least Free, or CHFIL, but at least they played two songs she sang on Idol? Fallin and Rolling In The Deep. Albeit a crappy remixed version of RITD.
I hope at the very least she inspired some young folk. Because other than shoutouts for her newest music... This was an uneventful appearance...
Oh, and we still don't have a Halien of the month for March. Hope we find out who it is soon...
03-14-2018, 05:54 AM,
(This post was last modified: 03-14-2018, 05:58 AM by Tusk.)
Tusk
jonesing for some Gingerbread Cake


Posts: 11,515
Threads: 207
Joined: Mar 2012
RE: Radio Disney
As I pointed out on Twitter, as an independent artist (at least in her marketing) getting this type of gig is not only about how many people listen, as much as it is about "Haley the Business Woman". We know she has superb networking skills, and it's not impossible that she makes some valuable contacts, made positive impressions behind the scenes. I was in the air returning to the US when this was on, but I can tell from the disappointed tweets that it was underwhelming, at least from the public exposure/New Music News perspective.
I continue to try to find the 'glass half full' of most of Haley's situations, any exposure with "name" media corporations is a good thing in my book. Haley's personality and people skills are well above average, and as someone that has said, time and again, she looks for signs, I certainly see that she maximizes any opportunity that presents itself
This reminded me of a Tweet she sent me 3 years ago about what she does when not performing. I believe it was the same day (or around) Habits from PMJ was released on iTunes. I was disappointed missing out on a Caley performance in LA, I think it was Room 5? Where Haley stepped in for a song or two and my hotel was really close by.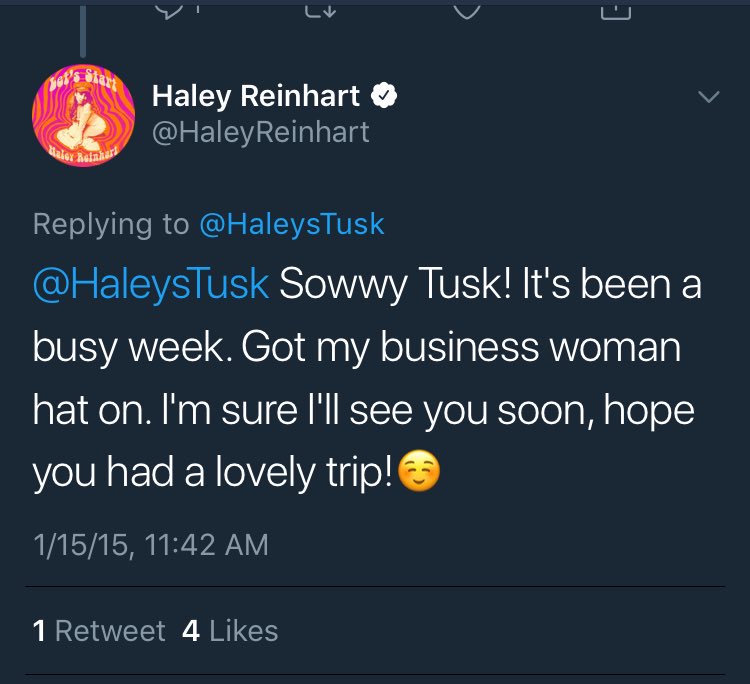 Reminds us that there is more to the effort she puts into her career than "just" singing
03-14-2018, 07:56 AM,
KelseyW.
Member


Posts: 133
Threads: 2
Joined: Jan 2013
RE: Radio Disney
All true. Good points made too.
I was talking briefly on MJ's blog about how other Idols (Besides Adam Lambert) continue to tour and make music regularly.
Someone mentioned a list of Idol things that have either been accomplished or are currently being accomplished. Things like acting in film/T.V. and doing Broadway.
Anyway. I brought up Haley and that she hopes to act and has done voice acting. I also mentioned that she would make a great author someday. If she chooses to write a bio on her music career thus far.
I tweeted Haley saying she'd make a great author someday. So hopefully she sees that and ponders it even for a second.
Users browsing this thread: 1 Guest(s)