---
RE: RIP - john - 01-11-2016


Quote:

David Bowie's last release, Lazarus, was 'parting gift' for fans in carefully planned finale



The producer of Blackstar confirms David Bowie had planned his poignant final message, and videos and lyrics show how he approached his death

...Tony Visconti, the producer who worked with Bowie to complete his final album, has released a statement saying it was deliberately created and timed as a "parting gift" for his fans...

In a statement on his Facebook page, he said: "He always did what he wanted to do. And he wanted to do it his way and he wanted to do it the best way.
"His death was no different from his life - a work of Art.
"He made Blackstar for us, his parting gift.
"I knew for a year this was the way it would be. I wasn't, however, prepared for it.
"He was an extraordinary man, full of love and life. He will always be with us....

...Visconti has previously spoken of creating the album, which was recorded in just three sessions over the course of three months at the beginning of 2015.
It now appears the singer and those closest to him arranged its release at the end of his life, after 18 months of living with cancer....

http://www.telegraph.co.uk/news/celebritynews/12092542/Bowies-last-album-was-parting-gift-for-fans-in-carefully-planned-finale.html
---
RE: RIP - Tusk - 01-11-2016



A Piano Tribute to the Late David Bowie, By Scott Bradlee




Quote:I still remember the first time I heard David Bowie's 1969 classic, "Space Oddity." I was in college, hoping to pursue a career in music, and struggling to make sense on what exactly that meant. At a time where, prompted by technology, music was being endlessly categorized into tiny boxes of subgenres, I felt like I was late to the party. I didn't fit in as a jazz musician, and didn't fit in as a pop musician, either.

I'm not sure how "Space Oddity" ended up on my Hewlett-Packard dorm room computer. I probably downloaded it from Napster, truth be told (it was the early 2000s, in case that wasn't obvious). All I remember is listening to it for the first time and thinking, "Why am I just now discovering David Bowie?"

"Space Oddity" wasn't like the rock songs I had heard before. It was cinematic. It had lots of chord changes and an unusual form. It seemed to have more in common with the tradition of opera than rock. I immediately sought out more Bowie albums – Ziggy Stardust, Aladdin Sane, Heroes – and found that, as different as each one sounded, they each had the unmistakable stamp of an artist that simply made the music that he wanted to make. David Bowie didn't follow trends; he made them. By the time the rest of the world caught on to what his was doing, he was already out the door. He was eternally the kid that refused to color within the lines, yet somehow managed to turn the page into a beautiful work of art.

I sat down at the piano today to reflect on Bowie's extraordinary life in music and the lessons he gave to artists everywhere – lessons that continue to inspire all of us that dare to color outside of the lines from time to time. Here's "Space Oddity," as I remember hearing it so many years ago. It's my way of saying, "thanks."
---
RE: RIP - yanni5 - 01-12-2016


(01-11-2016, 10:13 PM)

Tusk Wrote:

A Piano Tribute to the Late David Bowie, By Scott Bradlee





Quote:I still remember the first time I heard David Bowie's 1969 classic, "Space Oddity." I was in college, hoping to pursue a career in music, and struggling to make sense on what exactly that meant. At a time where, prompted by technology, music was being endlessly categorized into tiny boxes of subgenres, I felt like I was late to the party. I didn't fit in as a jazz musician, and didn't fit in as a pop musician, either.

I'm not sure how "Space Oddity" ended up on my Hewlett-Packard dorm room computer. I probably downloaded it from Napster, truth be told (it was the early 2000s, in case that wasn't obvious). All I remember is listening to it for the first time and thinking, "Why am I just now discovering David Bowie?"

"Space Oddity" wasn't like the rock songs I had heard before. It was cinematic. It had lots of chord changes and an unusual form. It seemed to have more in common with the tradition of opera than rock. I immediately sought out more Bowie albums – Ziggy Stardust, Aladdin Sane, Heroes – and found that, as different as each one sounded, they each had the unmistakable stamp of an artist that simply made the music that he wanted to make. David Bowie didn't follow trends; he made them. By the time the rest of the world caught on to what his was doing, he was already out the door. He was eternally the kid that refused to color within the lines, yet somehow managed to turn the page into a beautiful work of art.

I sat down at the piano today to reflect on Bowie's extraordinary life in music and the lessons he gave to artists everywhere – lessons that continue to inspire all of us that dare to color outside of the lines from time to time. Here's "Space Oddity," as I remember hearing it so many years ago. It's my way of saying, "thanks."




That is a beautiful rendition of a great song.


---
RE: RIP - john - 01-12-2016

From 1977 a duet with Bing Crosby.


I thought this was an odd coupling, even for Bowie, at this period in his life -- the Berlin years. I wanted to contrast this with other things going on that year but when I Googled the matter I quickly found this article from

People

with a similar idea:


Quote:

The Story Behind David Bowie's Unlikely Christmas Duet with Bing Crosby



In the long list of David Bowie's collaborators – Lou Reed, Iggy Pop, Queen, Trent Reznor, TV on the Radio – there's one slightly odd standout: Bing Crosby.

And the pair's duet on "Little Drummer Boy" for the 1977 TV special Bing Crosby's Merrie Olde Christmas has indeed become something of an outlier in Bowie's career, landing as it did in the middle of Bowie's particularly strange – even for him – late '70s run, that found him making stark, groundbreaking albums like Low while sequestered in Berlin. The clip usually pops up around Christmas every year as part of All-Things-Bowie Internet round-ups, and that's that.

...The writers found a solution: Craft a counter-melody that Bowie could sing while Crosby proceeded with "Little Drummer Boy." "It all happened rather rapidly. I would say within an hour, we had it written and were able to present it him again," Kohan explained to PBS. Bowie loved the resulting melody, called "Peace on Earth," and the rest was history.

...Nathaniel Crosby suspected some strings were pulled behind the scenes to ease the transition. "It almost didn't happen," he told the AP. "I think the producers told him to take the lipstick off and take the earring out."

http://www.people.com/article/david-bowie-bing-crosby-christmas-little-drummer-boy



1976 mug shot following an arrest for felony Possession of Marijuana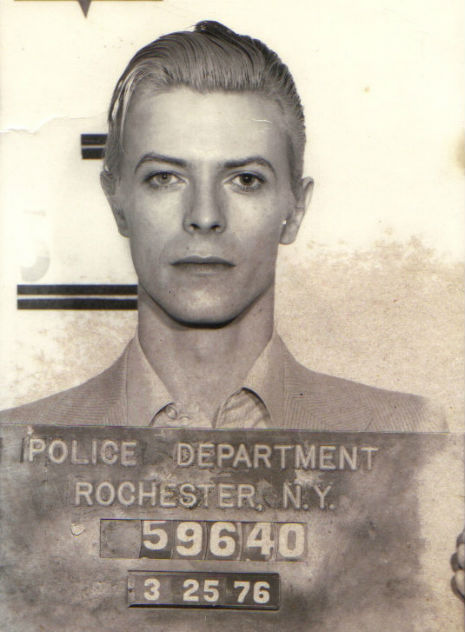 A clip about the failure to indict by Grand Jury

(Iggy Pop was one of his associates also arrested)


---
RE: RIP - My Alter Ego - 01-18-2016

Seriously? Struggling to comprehend this one:


Glen Frey
http://www.cnn.com/2016/01/18/entertainment/glenn-frey-obit-feat/


---
RE: RIP - rmd1064 - 01-18-2016

Wow...I know...did not see this one coming. I never saw the Eagles, but now they are definitely done. I was a big fan of Glenn's solo work--just loved his bluesy voice. This song played at my wedding. A classic solo tune. RIP Glenn. First Bowie, now Glenn...in one week...Damn...




---
RE: RIP - john - 01-18-2016




EAGLES ~ "LYIN' EYES" 1977



---
RE: RIP - john - 01-18-2016

In related news
Dale Griffin, the drummer for Mott the Hoople, passed away Sunday at 67.

Back when those dudes were young (covering a tune written by Bowie):






And
Mic Gillette, founding member of Tower of Power, dies at 64


---
And Alan Rickman

---
RE: RIP - midnightblues - 01-19-2016


(01-18-2016, 09:17 PM)

john Wrote:

EAGLES ~ "LYIN' EYES" 1977






I took the passing of Glen Fry the hardest and took it to heart. IMO second to the Beatles Glen fry and Don Henley wrote some of the most meaningful music. There tunes weren't just thrown together Kinda scary that all the Boomer rockers and passing on. I grew up with the Eagles , the 70s what a decade it was. I had no idea he was battling this physical issue RIP Glen I'm 1 year older than he was. Time is going by way to fast
Pneumonia is no joke I'm just getting over it and it drains the life out Ya.


---
RE: RIP - john - 01-19-2016

Ya Midnight, they provided the soundtrack to a big part of our lives

Peaceful Easy Feeling


Take it easy


Already Gone / 1974 California Jam



---