---
Haley w/ Damiani at Catalina Jazz club Aug 20 - Tusk - 08-03-2021


Quote:dave_damiani

I'm pleased to announce @haleyreinhart will be joining me for my birthday party on Aug 20th @catalinajazzclub!!! See bio for ticket link!!! #NoVacancyOrchestra #CatalinaJazzClub is back!!!

https://www.instagram.com/p/CRpHz3QL2MO/
---
RE: Haley w/ Damiani at Catalina Jazz club Aug 20 - Tusk - 08-03-2021

Link for tickets, I'm told it has a 200 person capacity:
https://www.ticketweb.com/event/dave-damianis-birthday-bash-midlife-catalina-bar-grill-tickets/11140485?pl=cbg 

It's one of those dinner/show venues, so $30 for the ticket but you also have to order at least two drinks



Quote:

Dinner or two-drink minimum required in addition to the tickets, plus a $0.45 music royalty fee per patron.


Doors open for dinner 1 1/2 hour before the first show and 1/2 hour before the second show if there is a second show.
Ticket sales are final.
---
RE: Haley w/ Damiani at Catalina Jazz club Aug 20 - Tusk - 08-21-2021

Other than being a full Haley show, I couldn't have chosen a better show to attend.  Damiani negotiated w/ the venue's owner to allow me to record two songs w/ my camera (the one I bought in anticipation of Haley's 2020 European tour).  They normally charge $500 to video there.  Manny, the manager, gave me no limits if I recorded w/ my cell phone.

I arrived at the venue early, an hour and a half.  I'd been in email contact w/ Manny so he knew I was coming, but there was no way I could see to get in.  Luckily, Damiani's piano player, Gary, recognized me when he arrived and let me in.

I wanted to get there early because, obviously, I hadn't done this in almost two years, I had to reacquaint  myself w/ my equipment, especially my "new" camera as well as check the levels for my external microphone.  I had hoped to get there for sound check so I can set it right.

Manny was going to give me a seat in the center, back on a raised cocktail table, but I asked if I could have a two seater table in the corner, 1) If possible, I like to not be an obstruction 2) Generally, I don't think a straight shot of the stage is very 'interesting', one reason, the microphone often covers the face of the singer.  Shooting at an angle makes for a better shot IMO.  Manny also gave Yanni a seat three rows back at center so he could video w/ a phone.

Haley said she was going to sing five songs, but tonight she sang six, including a song she and Damiani had not performed before and a duet w/ Daminani.  It was a great show, fun, and the crowd was enthusiastic.  Haley got two long standing ovations for her last two songs, you could probably guess which songs
 

It's possible if Haley or Damiani likes the two songs I video'd w/ my camera, they'll use it.  Otherwise, I have the other 4 songs shot w/ our phones, I'll put on my channel.  They don't look as nice as the ones I show w/ my camera, but great performances otherwise, including the two last songs that got the sold out room's standing ovation. 
---
RE: Haley w/ Damiani at Catalina Jazz club Aug 20 - Tusk - 08-21-2021

From the mic check before the show: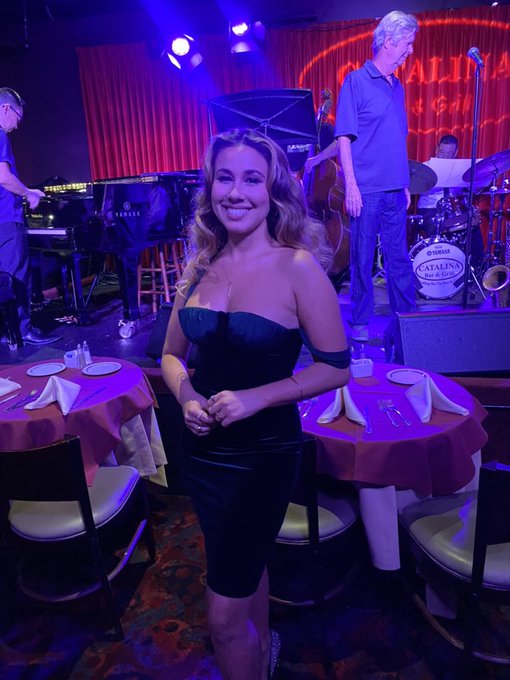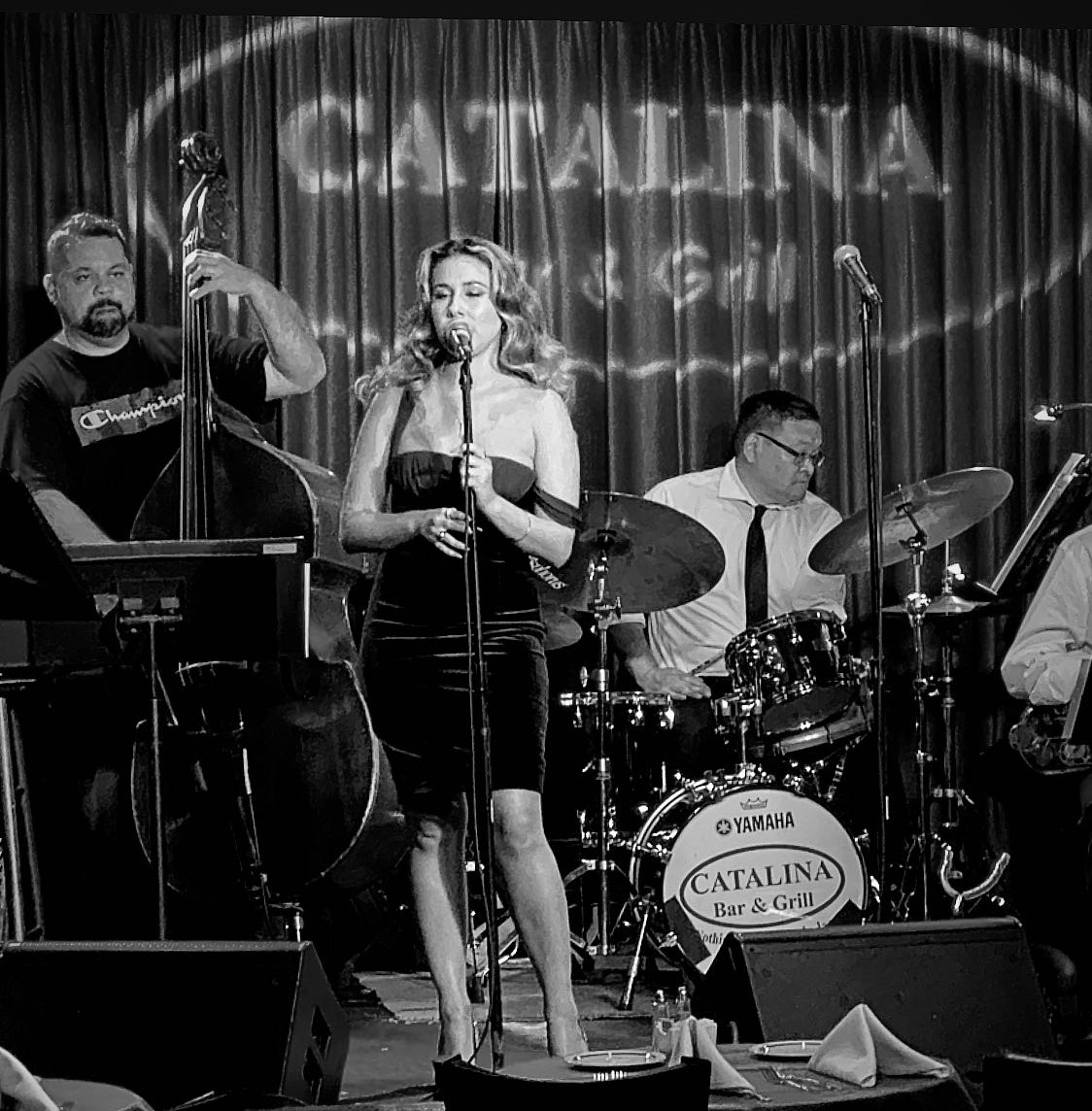 (Haley's dress is a dark forest green...the lights had that effect on photos and videos, I had to colour correct for the video)
---
RE: Haley w/ Damiani at Catalina Jazz club Aug 20 - Tusk - 08-21-2021

Here's a screen shot from a video I've edited to show how good the resolution my new camera has... this is zoomed in from a good distance back.  The only draw back is I had to shoot standing on two chairs, armed raised, to video over the wait staff.  Unfortunately, that meant no room for my monopod so the video isn't as still as I would like, but because I also had video from my tripod camera, I could cut to those when my close up video got too shaky...always nice to have 'B-roll' video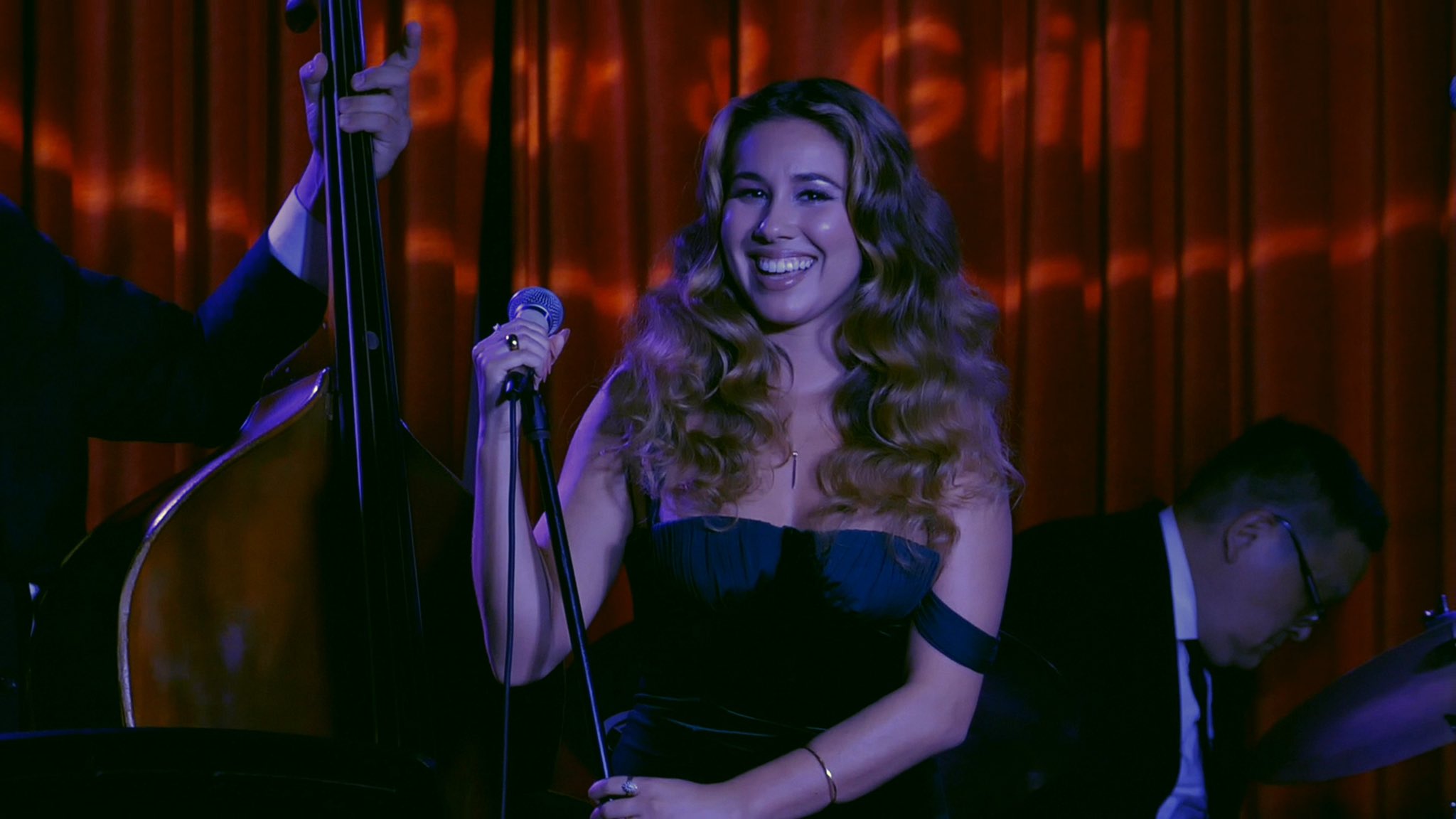 ---
RE: Haley w/ Damiani at Catalina Jazz club Aug 20 - Tusk - 08-23-2021

I sent the 'good/camera' videos to Haley to see if she wants them.  The other performances are iPhone videos which won't obviously have as good video.  I opted to go black and white w/ the iPhone videos as some of them had video artifacts I couldn't overcome, so opted to make them black and white




---
RE: Haley w/ Damiani at Catalina Jazz club Aug 20 - Tusk - 08-24-2021

A couple more screen shots while I do some more editing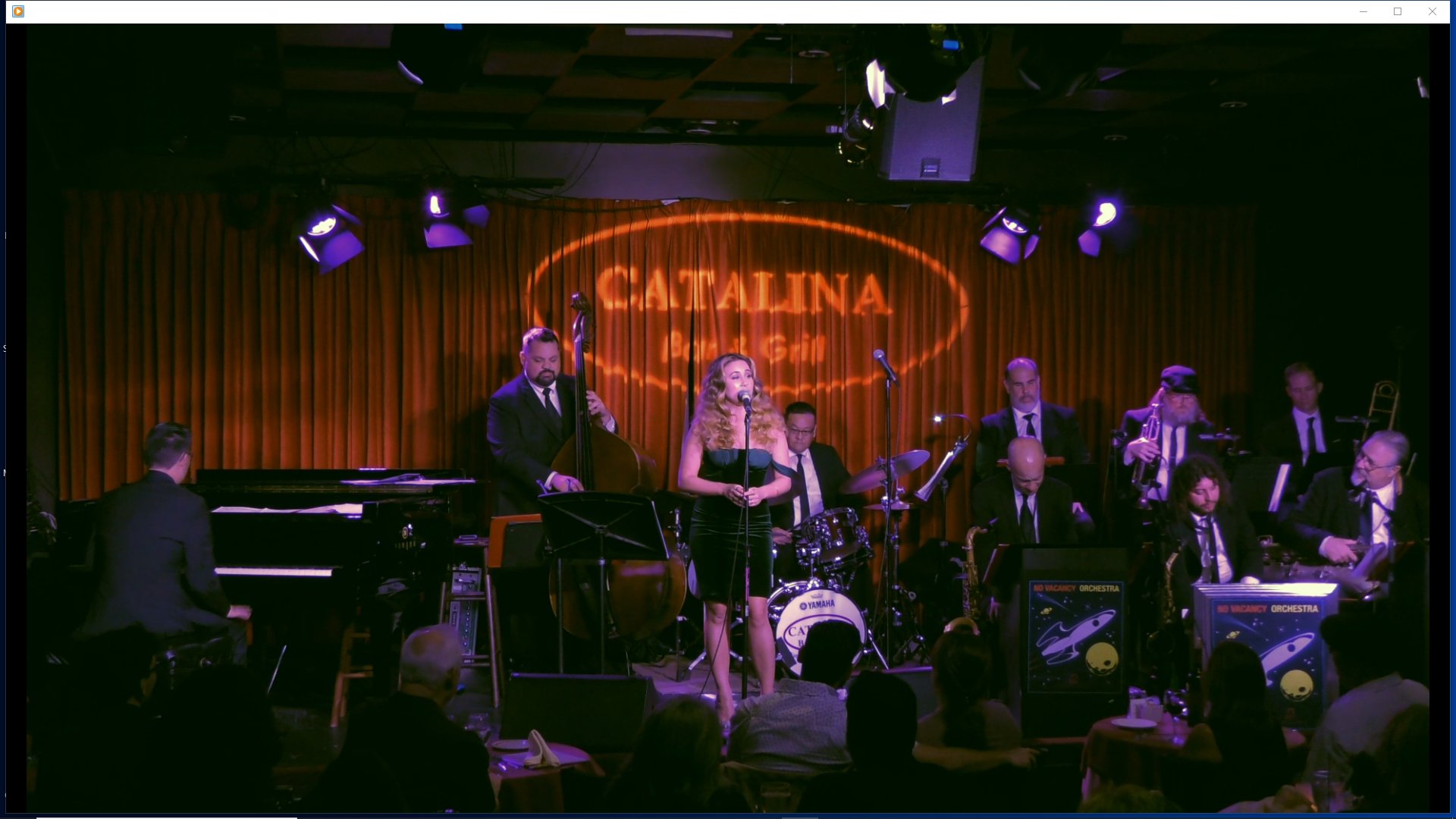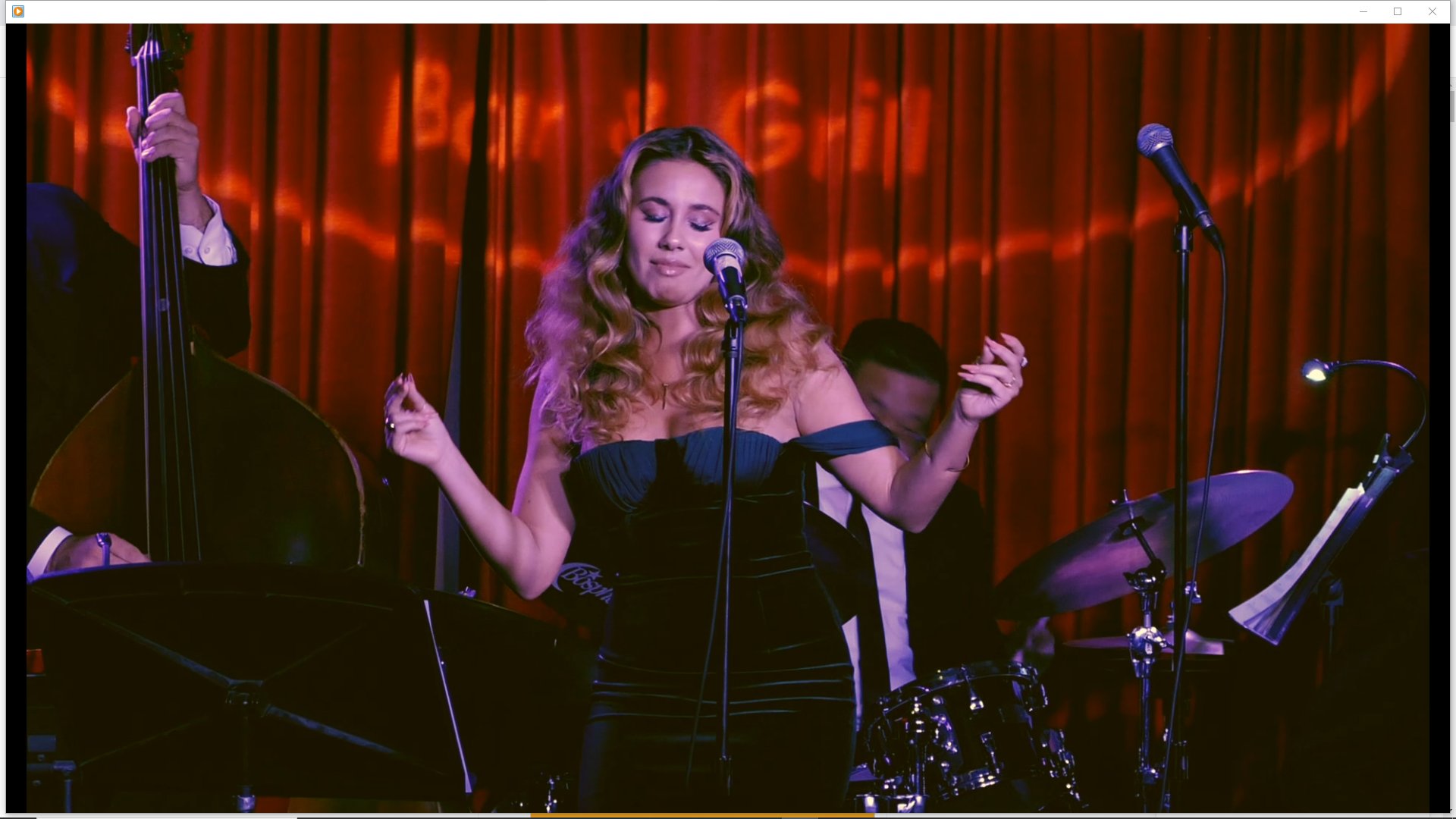 ---
RE: Haley w/ Damiani at Catalina Jazz club Aug 20 - Tusk - 09-09-2021




---
RE: Haley w/ Damiani at Catalina Jazz club Aug 20 - Tusk - 09-09-2021




---
RE: Haley w/ Damiani at Catalina Jazz club Aug 20 - Tusk - 09-22-2021




---